You may well have heard of "cylinder snapping". It is a method sometimes used by burglars to break into property that is secured using a europrofile cylinder (e.g. almost all properties that have UPVC or composite doors and they're often used in commercial as well as domestic environments).

What a typical euro cylinder looks like
The method involves breaking the cylinder to then manipulate the lock to open. Whilst you may think that all the multi locking points on your door make it secure, it's important to realise they are all locke in position by the cylinder – this is the weakest point and if compromised all the locking points are free to move.
Various Police Forces are warning residents of this method of attack which requires little specialist tools or knowledge.
Here the West Yorkshire Force (who have established that 25% of burglaries use this method of entry) provide some information and advice.
Kirklees, and area of Leeds, are reporting even higher rates of burglary from cylinder snapping, see here for more info.
North Yorkshire are also highlighting the issue – click here for more info.
Whilst it has previously been restricted mainly to the Yorkshire area we are now seeing Police further afield giving warnings. Here you'll see the Thames Valley police providing advice on the issue.
So it's clear that it's a real threat, but the important thing to realise is that there's a simple solution. It's not something to be afraid of, simply something to be aware of and take action to prevent.
Sold Secure, the security product test house owned by the Master Locksmiths Association started work over 2 years ago on a test standard to cover this particular MO. SS312 Diamond, which started towards the end of 2010 and is constantly being updated and tweaked to ensure it's consistantly up to date with latest techniques etc, is the highest level of approval for lock cylinders, and includes a test for resistance to snapping.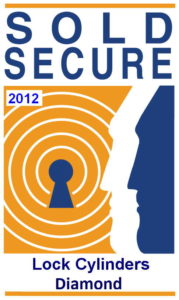 Subsequent to the launch of SS312 Diamond other standards have been launched to address the issue but the Sold Secure standard is seen by most as the leader and therefore the approval to have.
You can find a list of cylinders that have achieved this highest level of approval by clicking here.
By fitting a Sold Secure Diamond approved cylinder, your local professional, MLA licensed locksmith will help you minimise the likelyhood of being burgled using this method.
If a SS312 Diamond cylinder isn't used then it should at least reach the 3star Kitemark standard to provide true resistance to snapping. Don't simply rely on the manufacturer stating it's snap resistance, you should always look for 3rd Party approval to confirm a product's performance.
So the answer to the snapping issue is simple; get your local MLA locksmith to fit a Sold Secure Diamond approved cylinder and you can rest assured that your locks will put up the best fight. If you want to go that extra mile then why not get your MLA locksmith to fit some high security door furniture too such as security handles.